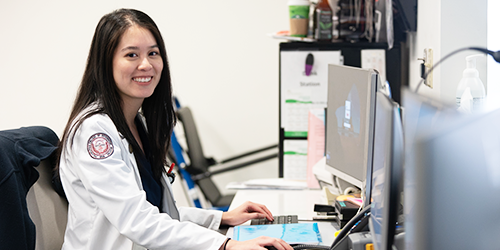 Applications are coordinated though the Electronic Residency Application Service (ERAS). Students may begin the ERAS application in July, and our residency will begin receiving completed applications in September each year. More information and applications may be found on the ERAS website and searching for the Bayhealth General Surgery Residency.
It is important that you only apply for our residency program through the ERAS website. We cannot accept applications via email. Doing so could be cause for a potential match violation. Please visit the National Resident Matching Program website to learn more about professionalism in matching.
International medical school graduates should look for special instructions or contact the Educational Commission for Foreign Medical Graduates directly at 215-386-5900.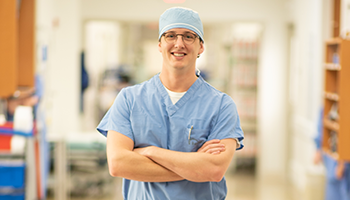 If you are interested in completing a general surgery sub-Internship at Bayhealth, please apply through VSLO. We will begin accepting applications on March 1, 2023.
2023-2024 NRMP Match Information
Bayhealth does not discriminate on the basis of age, race, ethnicity, religion, culture, language, physical or mental disability, socioeconomic status, sex, sexual orientation, and gender identity or expression. 
All interviewees will be given the option to interview in person or through a virtual platform, interview type does not impact program rankings. 
First interview notifications will be sent out approximately Oct. 9, 2023 and second round of offers sent out Approximately November 1. Additional notices will be sent if interview positions are not filled or canceled.  Interview dates are tentatively set for Dec. 12, 2023, January 5 and 19, 2024. Additional dates may be opened depending on the needs of the program and applicants. 
The program will not send more invitations than available interview slots at any time during recruitment. However, the program cannot guarantee available slots will be convenient for the applicants. If this occurs, please consider using the waitlist feature available for all interview days. The program will include waitlisted applicants when determining the number of available interview slots. 
All interviewees will be given the option to interview in person or through a virtual platform. Interview type does not impact program rankings.
Interviews will not be offered to prelims or those with previous residency experience. 
Interviews will be offered on a case by case basis after a complete holistic review of the following preferred criteria: 
Review of test results

2 Letters of Recommendations

Personal Statement 

Research Experience 

Volunteer Experience

Review of MSPE

ECFMG Certified or eligible if applicable 

Currently enrolled in medical school or within 2 years of graduation 

For additional information regarding selection and employment eligibility, drug screening, visa sponsorship, etc. please review the Resident Recruitment and Selection Policy